1876
Citrus Groves and the Emergence of the Railroad


In this period, agriculture and growth in Los Angeles continued to shift rapidly through changing politics, forces of nature, and supply and demand. The Mexican Amercican War of 1846 placed sovereignty in the hands of Americans as Alta California, under the Treaty of Guadalupe Hidalgo, became a territory of the United States.
Development of the region was thrown into high gear by the discovery of gold at Sutter's Mill in 1849, which sparked the California Gold Rush and consequently increased demand for goods in northern California.

Ranching and Winemaking began to decline in the region. In 1851 the California Land Act passed, requiring proof of land claims and boundaries. That legislation, along with competition from midwestern ranchers and back-to-back droughts in 1862 and 1864 which killed off whole herds of cattle, contributed to the decline of ranching in Los Angeles.

Though viticulture once thrived, Pierce Disease had at this point wiped out many grape vines and vineyards. Prosperous vintners, like William Wolfskill, began to replace wine vineyards with orange and citrus groves.

In the 1870s, the Zanjas expanded along with more and more groves. Wolfskill, fully embracing the citriculture on his property, planted his first citrus seedlings from M. San Gabriel. Around this time, the Washington Navel Orange or Bahia Orange was successfully imported from Brazil and planted by Eliza Tibbets of Riverside, California.

This particular variety was so delicious and easy to peel that it revolutionized the citrus industry in California, including on this site. The Vitamin C found in oranges was recognized as an effective remedy for scurvy that was afflicting the Forty-niners, and citrus became an extremely lucrative commodity.

Walnuts
Horses
Oranges
Soot
The proliferation of citriculture was directly connected to the development of the Southern Pacific Railroad and it's first depot in 1876 in what is today Los Angeles Historic State Park. Flocks of immigrants, specifically Chinese, came to Los Angeles to build the railroad and others worked in the fields. California orange grove owners prospered, becoming millionaires and living lives of luxury.

Citrus, along with other produce, was exported to Chicago and New York, even in the middle of winter. The orange became the symbol of California was also exported creating romantic images of the state as "the land of health and wealth" Imported palm trees and pineapple crops along with the mythologized orange painted a picture of California as a tropical paradise and proved to be an effective marketing tool in the branding of Los Angeles.

This lead to rapid increase in land speculators and eventually to the real estate boom.
This workshop took place on May 30th, at the Center for Art and Olfaction. The final scent will be available to experience at LA Design Week.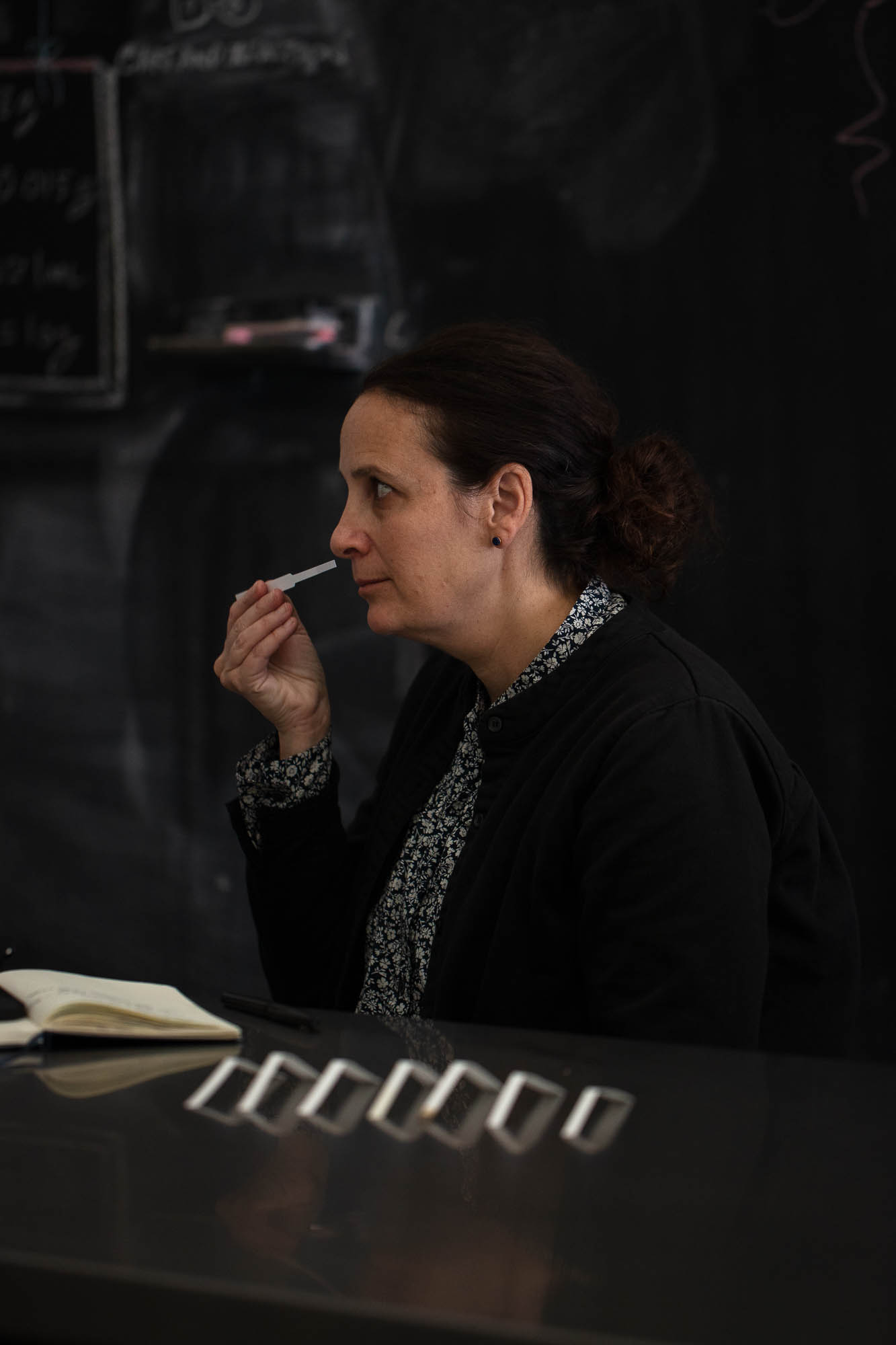 A big thank you to our fantastic workshop participants!
David Boulé
, historian and author of
The Orange and the Dream of California.
An authority on the California citrus industry, David brought incredible insight into this workshop. For more on the Citrus Industry, check out his interview with
KCET
or his book at
Angel City Press
!
Rob Banning
, is great great grandson of Phineas Banning, who was responsible for bringing the train from the harbor in Wilmington, which he built, to Downtown Los Angeles.
Phineas Banning / Phineas Banning Statue in Wilmington
Alameda Heart Notes
An investigation of place through history, memory, and scent.
A SALT project
in collaboration with new friends and neighbors.