1917
The Terminal Market


The discovery of oil in 1882 shifted the entire farm industry. As modern irrigation infrastructure replaced the Zanjas, agriculture expanded on a massive scale.

Despite the devastation of the orange groves due to vedalia beetles and Cottony Cushion Scale disease, a labor shortage from the 1871 Chinese massacre, as well as the eventual real estate land bust in 1888, farming commercialized with the advent of new investors, farm machinery, pest management research and the organized labor forces of the cooperative movement.

The city rapidly urbanized to accommodate population growth and industry. Joining the single family subdivisions and single residency occupancies were the architect designed warehouses, factories, canneries and wholesale produce markets that popped up in DTLA.


Fresh Produce
Lumber
Rot
Crude Oil
In 1917, in close proximity to the Southern Pacific Railroad, the Los Angeles Terminal Market opened near Alameda and 9th, providing a systematic way for farmers to distribute their goods.

The culture of the markets were vibrant, bustling with vendors showcasing crates of lemons, walnuts, pomegranates, olives, oranges, strawberries, almonds, apples, lettuce, cauliflower, cabbage, and tomatoes from local harvests.

The comradery of market workers turned customers were celebrated at communal tables of locals joints like Vickman's Original Feedbag Restaurant.

The wholesale market district flourished throughout most of the twentieth century and still remains today.
Notes from the workshop:

In this workshop, Saskia developed the scent using more of the fresh produce smell of tomato leaf with indeline (decaying smell) and lumber smell for the crates.

The current market sells a lot of tropical fruits, but historically they had more vegetables like potato and onions, so we decided to have the smell less sweet and more fresh.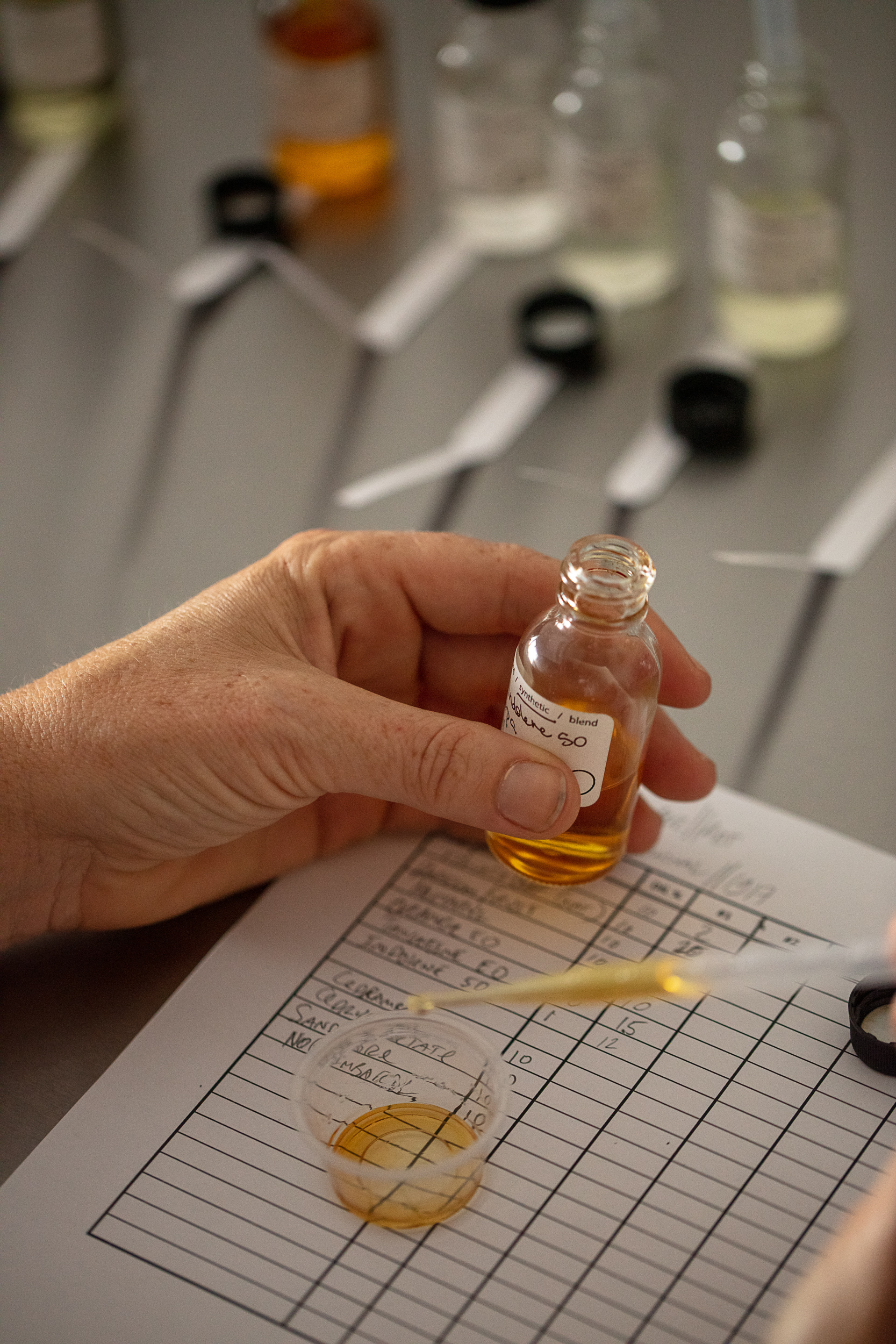 Our final notes included:

Cepes absolute - mushroom, molding smell
indeline - decaying


Produce smell:
Tomato leaf (natural extract)
Passionfruit (synthetic) - sweet
Nectorel
Florida orange (natural extract)


Crates: (woody/ lumber smell)
Sandalore
Cedracetate
Cedramber
Norlimbanol


We'd like to extend a huge thank you to author, historian, and LAPL Map Librarian Glen Creason, who guided us through this period in history. An authority on the history of Los Angeles, Glen provided us with invaluable insight into the Terminal Market and food history of LA during this workshop.
Alameda Heart Notes
An investigation of place through history, memory, and scent.
A SALT project
in collaboration with new friends and neighbors.